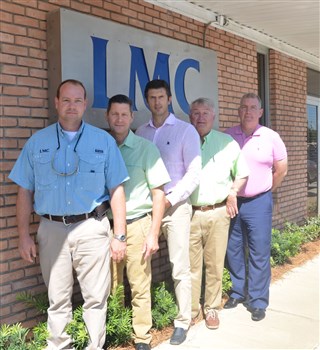 Steven Chivilo, the president of LMC Canada, located in Saskatoon, Saskatchewan, brought two gentlemen from ProAgroTech, Stavropol, Russia to Donalsonville this past week. While here, they were treated to tours of the  American Peanut Growers Group's peanut shelling plant in operation and the LMC factory.
Aaron Baldwin, the project manager, and Vitaliy Buzu, the managing director of North Caucasus Development Company of Essentuki, Stavropol Region, were here to complete negotiations for an LMC designed seed cleaning plant to condition soybeans, sunflower seeds and edible beans. 
ProAgroTech currently farms 100,000 acres of soybeans and will be conditioning seeds for themselves and their neighbors. The plant will also produce edible quality sunflower seeds and beans for consumer markets. 
ProAgroTech operates in the Stavropol region located in southern Russia between the Black and Caspian Seas. The plant's design is based on those designed and constructed by LMC operating in Arkansas, North Carolina and Alberta, Canada. Plans are for the plant to be in operation in February 2015, preparing seeds for next Spring's plantings.