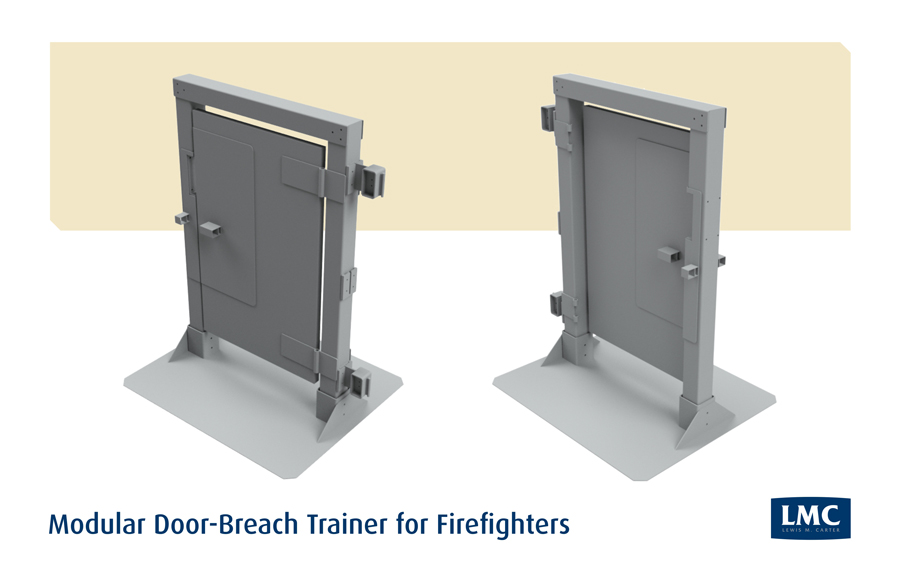 You may be familiar with the expression "Necessity is the mother of invention". This phrase is especially true with how LMC was able to help our local Donalsonville Fire Department. Brandon Lane (Training Captain) saw a need to efficiently help train his team on the tactical breaching of residential and commercial doors. He initially sought help to acquire the materials from LMC but after consulting with Marcus Carter (President & CEO, LMC) and Stan Kennedy (Parts Sales Manager, LMC) it was determined LMC could do more than just provide the materials for the fire department.
Kyle Bryson (Parts Engineer, LMC) went to work on the CAD portion of creating such a door for this purpose. After some design research to guide the build process and source the necessary materials, he and Nick Cooper (Fabricator, LMC) were able to complete their first iteration of the Modular Door-Breach Trainer which was delivered to the station on February 7th.
Michael Smith (Firefighter II) and Lane were able to demonstrate some of their procedures using their new door. Smith said, "It really helps to refine our technique through repetition." Prior to receiving this trainer, they relied on acquired structures to practice the breaching of doors. This meant they would have to do a fair bit of traveling to different buildings that were possibly going to be demolished or renovated. With their new door-breach trainer, the firefighters can now repeatedly train on-site in a more controlled environment while effectively eliminating their time away from the station. LMC donated the door to the Donalsonville Fire Department but Lane did mention it has generated a bit of interest with some of his friends at other fire departments.
Please feel free to visit LMC's Facebook page at www.facebook.com/LMCManufacturing to see some exclusive video of the door-breaching action.